Roll over image to zoom in
Description
Darkside has unveiled the long-awaited and highly anticipated sequel to its pre-workout, which brings with it a new name, going from 'Ultra Pre-Workout' to 'Ultra Pre Xtreme'. The supplement does feature a lot of the same ingredients as its predecessor but still aims for that comprehensive pre-workout experience offering increased energy, focus, pumps, and performance.
For pumps and performance, Darkside has packed Ultra Pre Xtreme with 4g of pure citrulline as opposed to citrulline malate like the last version, a gram of Pepform citrulline peptides, 3.2g of beta-alanine, and 2.5g of betaine. You then have all of Darkside's ingredients for energy and focus, which, once again, a lot of it is from the previous Ultra Pre-Workout.
Darkside has packed Ultra Pre Xtreme with a solid 450mg of caffeine, 350mg of which is from caffeine anhydrous, and the other 100mg from longer-lasting Infinergy. There is also a gram of tyrosine, 600mg of alpha-GPC, 125mg of TeaCrine, hordenine, synephrine, huperzine a, and finally, the reputable and reliable stimulant, eria jarensis, included at 250mg per serving.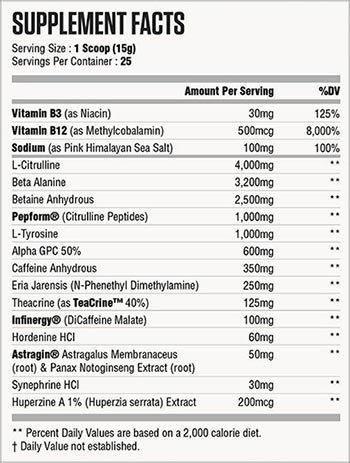 Payment & Security
Your payment information is processed securely. We do not store credit card details nor have access to your credit card information.